Okay, it's a little pretentious to put this under "Visual Art," but FWIW here's this year's jack o'lantern: an homage to the "Night on Bald Mountain" sequence from
Fantasia
. It was taken with an iPhone, which is not the greatest camera for close-ups in the dark. I'll try to get a better picture tonight.
I carved Chernobog at the moment that the church bells start ringing, signaling the coming dawn and the start of the "Ave Maria." Chernobog is half-cringing from the holy sound of the bell and the white light that flashes when the bell rings.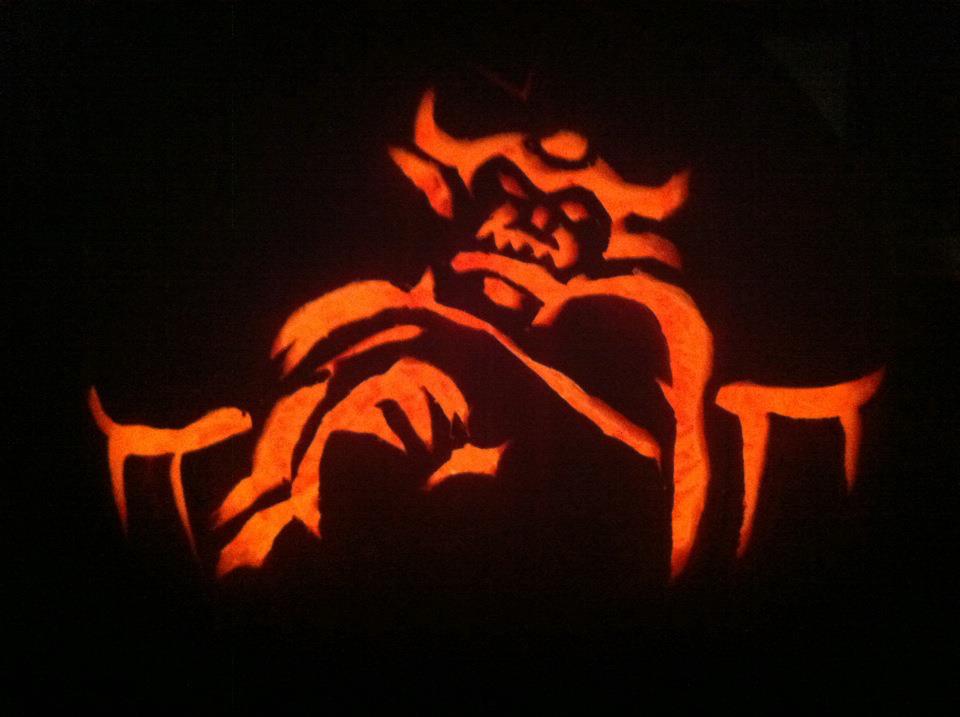 FWIW, here's the image I used for reference. I learned a lot doing this year's jack o'lantern, and I think I could do it a lot better given a second shot.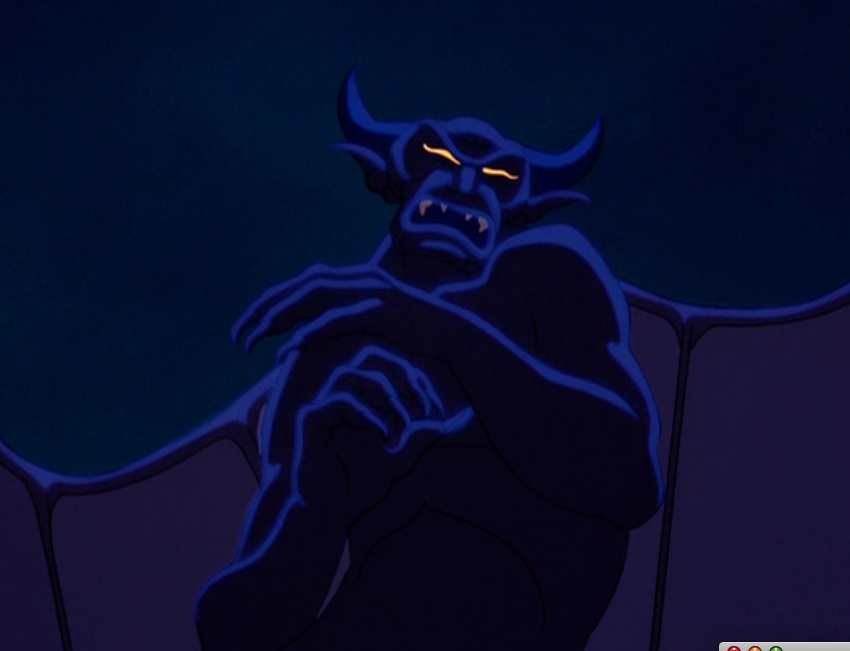 Last year I did Kiki from
Kiki's Delivery Service
, but I can't find an image from that one right now. I'll see if I can find it later.
Below is a design I did about 11 years ago. It is not actually a photo of my jack o'lantern, but a down-and-dirty Photoshop mockup made after the fact (since I can't find the photos of this one either). You will have to take my word for it that this is a pretty fair representation of what I actually carved.
This one is called "The Hierarchy of Hell." It depicts four heads devouring one another, representing the depiction of infernal order of things depicted in
The Screwtape Letters
and similar sources.
After carving "The Hierarchy of Hell," I discovered that my jack o'lantern had an unexpected but eerily fitting "performance art" aspect: As the pumpkin began to shrivel and decompose, the #2 head slowly began to withdraw into the maw of the largest head, while the mouth of the largest head slowly began to "close" on the other heads!
By the time I finally went to throw the thing away, it had collapsed into a mouldering heap -- and when I went to pick it up, it fell apart completely -- and there on the ground where the base of the pumpkin had been was the clearly recognizable ruins of the three inner faces, long since fallen back against the floor of the pumpkin, grimacing up at me. I felt I had come a lot closer to portraying the reality of hell than I ever meant to!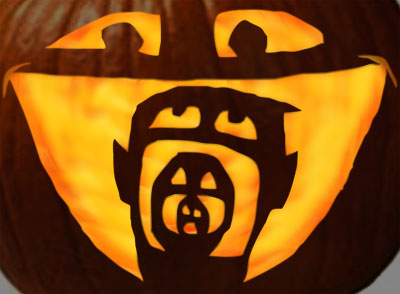 Finally, here's a jack o'lantern I decorated (as opposed to carving) five years ago for a company picnic. (Media notes: The horns and nose are hand-carved carrots, stuck on with toothpicks. Eyes are grapes, stuck on with pins (the pinheads are the irises). Facepaint by Sharpie & Wite-Out. Arms by Mr. Potato Head. Lightsaber by Tinker Toys.